Rosa Barba
Rosa Barba's primary medium is film and all her other forms relate in some way to filmic practices, histories and genres. In this exhibition, she displays a large circular sculpture, inspired by a modernist lamp. Inside the sculpture – resembling a kind of editing table – 35-mm-long filmstrips loop between film reels, constructing squiggly patterns. The filmstrips are so-called 'film leaders', situated at the start of the film roll to simplify the loading of the projector. The film leaders are collected from different times and countries, a sort of assembly of different time measurements and film symbology throughout history.
Rosa Barba works with film, sculpture and publishing. Selected exhibitions include Stage Archive, Foundation Galleria Civica-Center of Research on Contemporary Art, Trento and MART, Rovereto, Italy (2011); TATE Modern Level 2, London, UK (2010); A curated conference, Museo Nacional Centro de Arte Reina Sofia, Madrid, Spain (2010); Cinema Prospectif, Centre George Pompidou, Paris, France (2009). Rosa Barba was also one of the artists in Bonniers Konsthall's 2009 exhibition Life Forms.
Rosa Barba was born in Sicily, Italy, in 1972. She lives and works in Berlin, Germany.
Marco Brambilla
Evolution (Megaplex) (2010) displays the history of humankind over a period of three minutes. Images from nearly 400 different genre films, including such Hollywood classics as E.T. and Star Wars, are woven together to create a bombastic 3D video-collage which takes us on a trip throughout humanity, from pre-historic times to the modern day, even visiting the future as can only be done on the cinema screen. The soundtrack is taken from Sergei Prokofiev's ballet Romeo and Juliet.
Marco Brambilla was born in Milan, Italy, in 1960. He lives and works in Los Angeles and New York, USA. With roots in advertising, he had a long career as a director for commercials and feature films. He directed action blockbuster Demolition Man (1993) with Sylvester Stallone, Wesley Snipes and Sandra Bullock in the leading roles. Since the mid-1990s, Marco Brambilla has worked as a video artist.
Selected exhibitions include The Dark Lining, Santa Monica Museum of Art, California, USA (2011); Civilization, Les Recontres Internationales, Haus der Kulturen der Walt, Berlin, Germany (2010); Cathedral, Art Production Fund – LAB, New York, USA (2008). Works by Brambilla are also represented in the collections of The Guggenheim Museum in New York and the San Francisco Museum of Modern Art, San Francisco.
Douglas Gordon
Douglas Gordon is one of Great Britain's most internationally renowned artists and was one of the trendsetters who paved the way for moving imagery in the 1990s. In Pretty Much Every Video and Film Work From About 1992 Until Now, To Be Seen On Monitors, Some With Headphones, Others Run Silently and All Simultaneously, Gordon displays his films and video installations from 1992 until today. The exhibition includes work from 68 different pieces, including the renowned 24-Hour Psycho, but also some of Gordon's more performance-based videos. The work is shown on 83 clunky old television sets situated atop beer kegs. Pretty Much… is a work in progress – as soon as Gordon has produced a new piece, it is included in the collection and the installation expands.
Douglas Gordon was born in 1966 in Glasgow, Scotland. He currently lives and works in Berlin, Germany. Selected exhibitions include Douglas Gordon: k.364, Gagosian Gallery, London, UK (2011); Lights, Camera, Action: Artists' films for the cinema, Whitney Museum, New York, USA (2007); Douglas Gordon, San Francisco Museum of Art, California, USA (2007). Gordon has also received a number of awards, including the Turner Prize (1996), Venice Biennial's Premio 2000 (1997), and the Hugo Boss Prize awarded by Solomon R. Guggenheim Museum (1998).
Bonniers Konsthall would like to thank all those who donated their TVs to Douglas Gordon's installation:
Adison Assawakhachonsak, Adriana Rizzi, Agnes Sweijer, Alexander Bjarne Bagge, Amanda Cardell, Anette Klingborg, Anitha Trana, Ann Gustavsson, Anna Nilsson, Ann-Britt Håkansson, Annelie Liljekvist, Annika Stödberg, Bertil Karlsson, Birgitta Lefvert, Björn Sjöstrands, Bosse och Lena Lilljeqvist, Britt-Inger Lindgren, Britt-Marie Sjölander, Carola Persson, Christina Wallmark, Daniel Järmén, Elisabeth Turner, Eva Karlsson, Ewa Westman, Freja Salö, Gunilla Sternelius, Göran Arnhed, Hages tv video, Hampus Carlens, Hans Svensson, Helen Samson, Iggo Frostander, Ingegerd Finni, Jenny M Karlsson, Johan Ekesiöö, Johanna Palmqvist, John Wiebe, Karina Santanen, Katarina Zwinkels, Kerstin Teglöf Delgado, Klas Berggren, Klas Dykhoff, Krister Hanner, Lars Sturén, Lill Karlsson, Linda Olofsson, Lisa Mach, Madeleine Wiklund , Magnus Björklund, Magnus Leste, Marcus Björkman, Maria Kvarnhamn, Marie Modig, Martin Kristoffersson, Martina Pasini, Mats Bjurvald, Mats Sundin, Mikael Boierth, Mikael Homer, Morris R, Oscar och Sanna Liedgren, PWC (Bonnierhuset), Ragnar Malmberg, Rakel Storne, Rebecka Sahlén , Rickard Berggren, Robert Winge, Rosel Hauptmann, Satu Lindström, Sigrid Abenius
"Skroten", Spiros Papadopolos, Susanne Diffner, Tanya Blomqvist, Thomas Johansson
Thomas Nordling, Tomas Karlsson, Ulrika Åberg, Wallmark, Vernerholt, Veronica Sellén
Vigija Nyberg, Viktor och Sofia Nordenskiöld,  Yvonne Malmberg, Åsa Nordenskiöld
Alex Reynolds
Kajsa is a sound piece which enables the listener to experience playing a role in a film. A script directs the listener from the exhibition hall round the entire museum, allowing the imagery on display to freely intermingle with the narrative.
Alex Reynolds was born in 1978 in Bilbao, Spain. She lives and works in Berlin, Germany. Reynolds works with sound and performance art, creating filmic situations in real-life environments. Selected exhibitions include Te oímos beber, Barcelona Producció, Barcelona (2011), and Clara, ECCM, Barcelona (2010), Spain. Her films have been shown at several film festivals, including Region 0, video festival, NYU, New York, USA (2011).
Lindsay Seers
The film Extramission 6 (Black Maria) recounts the remarkable story of Lindsay Seers' life and art. Lindsay Seers spoke her first words when she was eight years old. Her previous silence was thought to be connected to her photographic memory. Upon seeing a photograph of herself, she spoke her first sentence: 'Is that me?' And with the arrival of language, her photographic memory began to disappear. Through this traumatic loss, Seers longed to 'be a camera', which led her to create photographs by placing light-sensitive paper in her mouth, as well experimenting with other picture-taking methods. The film takes us inside a model of Thomas Edison's Black Maria Kinetographic Theatre from 1893, the first ever such studio of its time.
Lindsay Seers was born in 1966 in Mauritius. She currently lives and works in London, UK. Seers works with various artistic formats, including video, photography and spatial installations. Selected exhibitions include It has to be this way 2, exhibited at both the National Gallery of Denmark (2010) and Mead Gallery, Warwick, UK (2010), and Altermodern, 4th Tate Triennial, Tate Britain (2009).
Ryan Trecartin & Lizzie Fitch
In Ryan Trecartin's movies, our visual culture is contorted to the extreme. Through experimentation with imagery and language inspired by contemporary phenomena such as reality TV and social media, his work explores themes of identity, consumerism, and postmillennial technology. For A Trip to the Moon, Trecartin and Lizzie Fitch create a sculptural theatre, containing two projections – P.opular S.ky (section ish) (2009) and The Re'Search (Re'Search Wait'S) (2009–2010) – from the extensive seven-video Trecartin piece Any Ever. The sculptural theatre simultaneously manifests the aesthetics from the videos in three dimensions and a drama of its own, built up with IKEA furniture as well as the artists' jointly-made sculptures.
Ryan Trecartin and Lizzie Fitch have collaborated since 2000. Trecartin was born in
1981 in Texas and Fitch was born in 1981 in Indiana. They currently live and work in Los Angeles, USA. Written, directed and edited by Trecartin, both he and Fitch act in his films, whose production they design and execute together.
Selected exhibitions include Any Ever, MoMA PS1, New York, USA (2011), previously shown at galleries including the Museum of Contemporary Art, Miami (2011), and The Museum of Contemporary Art, Los Angeles, USA (2010).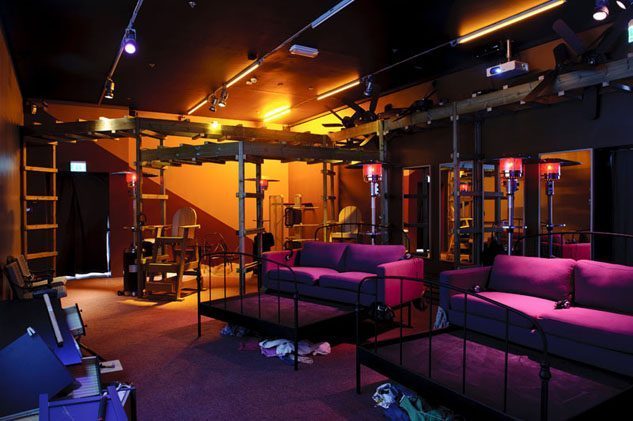 Ming Wong
Ming Wong makes his own interpretations of masterpieces from film history with retakes, staging and new recordings. Often he picks out a few details, gestures or expressions, which he repeats and studies to understand the core of the film. The exhibition features his new work on Ingmar Bergman's Persona. Images from Fårö island are mixed with scenes where 24 actors, each representing one frame of a moving image strip, turn gestures and expressions from the film into a choreography. They all wear black hair bands and white nightgowns, just like Liv Ullman did in the original film.
Ming Wong was born in 1971 in Singapore, a place not necessarily known for its films but which actually had a budding multi-cultural film industry in the 1950s and 1960s, definitely worth checking out! Wong later moved to London, UK, to attend art school, and currently lives and works in Berlin, Germany.
Selected exhibitions include Museum of Contemporary Art Tokyo, Japan (2011); Ming Wong's CYCLORAMA, Vitamin Creative Space, Guangzhou, China (2011); Life of Imitation, Singapore Pavilion, Venice Biennale, Italy (2009); Persona Performa, Performa, Museum of the Moving Image, New York, USA (2011).
The installation is based on Ming Wong´s performance Persona Performa, a commission for the performance festival Performa in New York. Produced by Bonniers Konsthall, Performa and Vitamin Creative Space. Thanks to Institut für Auslandsbeziehungen (IFA).
Fotnoter i utställningen
In the exhibition A Trip to the Moon, viewers are presented with contemporary artists who employ moving imagery as their tool to express the theme of the history and future of filmmaking. The fascination of the field of visual arts with film extends right back to the moment the film camera was invented. In order to delve into the debate that has always existed between these two art forms, we will be screening a selection of historical feature films and shorter video installations. Video art often serves as a commentary on the role of film in society as a whole, as well as exploring the vast possibilities offered by the medium of film.
Dara Birnbaum, Technology/Transformation: Wonder Woman(1978-1979)
Dara Birnbaum first became known as one of the video installation world's leading figures when she appropriated nothing more than clips from the cult-series Wonder Woman in her art film Technology/Transformation: Wonder Woman. The viewer follows secretary Diana Prince through action-filled scenes as she transforms into Wonder Woman, a character inspired by legendary Greek war women. After this production, Birnbaum took material from soap operas, pop quizzes and sports shows as a commentary on how TV media affects our lives.
Charlie Chaplin, Behind The Screen (1916)
St
As king of the silent film era, Charlie Chaplin acts out all possible troubles a stagehand may possibly encounter during a film production in Behind the Screen. One of the film's side stories focuses in on a woman who dresses as a man in able to work as a carpenter. Chaplin's character sees through her act and begins courting her. Their flirtatiousness is discovered at an intimate moment and they are accused of homosexuality. Early days for a debate of its kind!
Lillian Schwartz, Pixillation (1970)
Since the advent of the computer, artists and experimental film producers have trialled and tribulated over just how to create digital imagery. Lillian Schwartz was one of the first to carve the path for today's use of computer graphics, 3D and animation. Pixillation is one of the earliest video installations that was created entirely digitally, displaying abstract colourful designs that transform shape along to a beating soundtrack.
Georges Méliès, A Trip to the Moon (1902)
Méliès black-and-white silent adventure film made a huge impact when it was released in 1902. A Trip to the Moon deals with a group of people who travels to the moon – from this film the science fiction genre was born. The plot is loosely based on Jules Vernes' book From the Earth to the Moon, as well as The First Men in the Moon by H.G. Wells.
Dziga Vertov, The Man with a Film Camera (1929)
Dziga Vertov was one of the Soviet Union's most important filmmakers, and The Man with a Camera had a deciding impact on the development of film. This film displays city life in the Soviet Union through the eye of the filmmaker. Through The Man with a Camera, Vertov introduced such innovative filming techniques as camera tracking, fast and slow motion, and double exposure.